Relax in this Beautiful and Friendly Environment
Living with Nature Camping and Glamping What a better way to get in touch with Natural beauty of the Dorset countryside
Camping at Riverside Lakes
Our office on site will be your first meeting with us, we will check you in for your stay, go through any information and questions you have and direct you to your pitch. We ask out campers to sign disclaimers for everyone included in their party, so we know who is on site at each time. Day guests are welcome at a charge, but all must check in at the office, even if they've been before.
Biggest Moto on our site is 'BE NICE TO YOUR FELLOW CAMPERS OR GO HOME.' 
Our new booking system will make booking a reservation at riverside lakes so much easier, as it allows you to project forward, you can see what pitches are free for dates you have in mind. 
Tranquillity is still only bookable by phone. So give Kelly a call in the office or an email on bookings@riversidelakes.co.uk and she will get back to you as soon as possible. 
Low - Season
March- April
Infants (0-4 years Free of charge)

Day Visitors Per Person = £5
Infants (0-4 years Free of charge)

Day Visitors Per Person = £5
Infants (0-4 years Free of charge

Day Visitors Per Person = £5
All Prices Now Include VAT
All prices are per person per night, we don't charge per pitch because our pitches are very spacious meaning more people can stay on 1 pitch. Any queries please contact Kelly in the office to help with your booking.
Our website won't allow you to book 1 night stays but if this is something your needing then please phone Kelly in the office on 01202 821212.
Groups, quiet ones, are welcome but best to book through the office. They can book an entire cluster, each individually names, meaning ease for your stay. 
If you need even more reasons to book your next camping holiday at Riverside Lakes place.
Getting out and about, exploring the great outdoors this what camping holidays are all about. Ideally placed in sought-after locations around the UK,
you'll never be far away from some of the best attractions when you stay at 
Riverside
 Lakes  
To discover more inspiration, check out the attractions and places to visit start planning some days out and things to do on your camping holiday.
Riverside Lakes Facilities
Our Facilities are described as "TOP Notch" by our campers, with large clean facilities including 4 showers and 4 toilets in men's and women's, a dressing area for ease on getting ready in the mornings or perhaps going out for dinner, this also includes electric points. 
We offer a family bathroom with a bath to help soothe the day away, but great for kids who have spent the day at the beach, this calms them down for the evening ready for glow sticks and burgers.   
Adjoining the shower block is a washing up area ready for your camping essentials to be stored in our fridges and freezers provided.
We have a microwave and workspace available for camper's use.
Male & Female Shower Block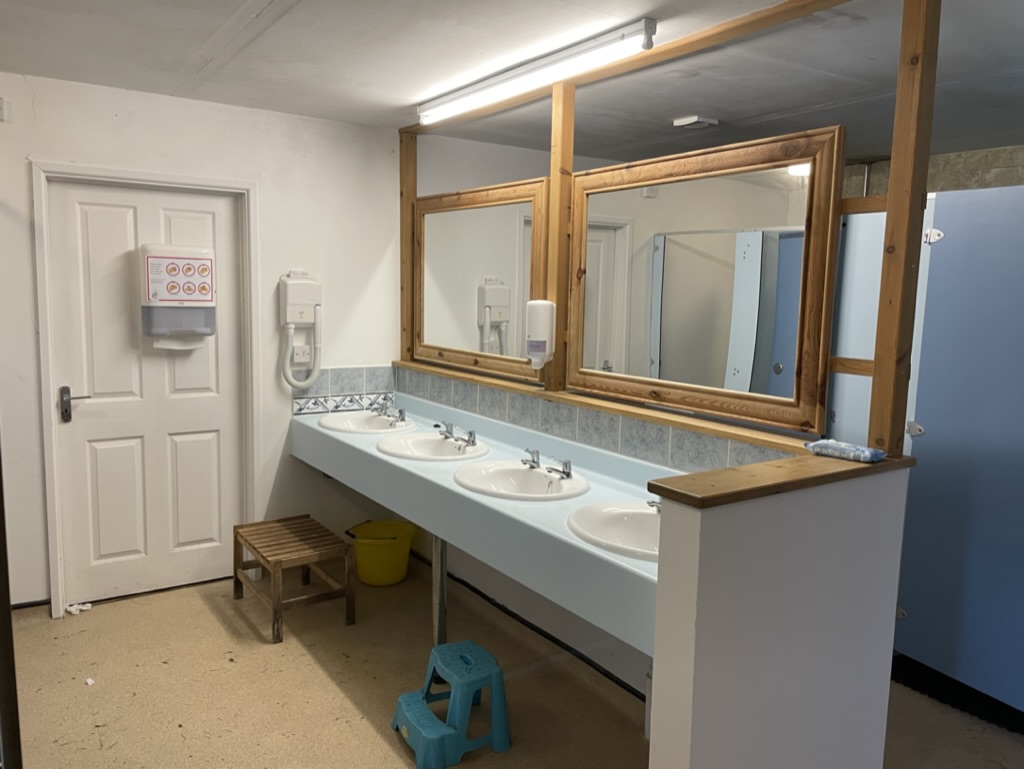 You'll find shower and bathroom facilities on our camping site with full size bath. Whether you're scrubbing up for a family day out or washing off the sun cream and sand after a day spent on the beach, our clean and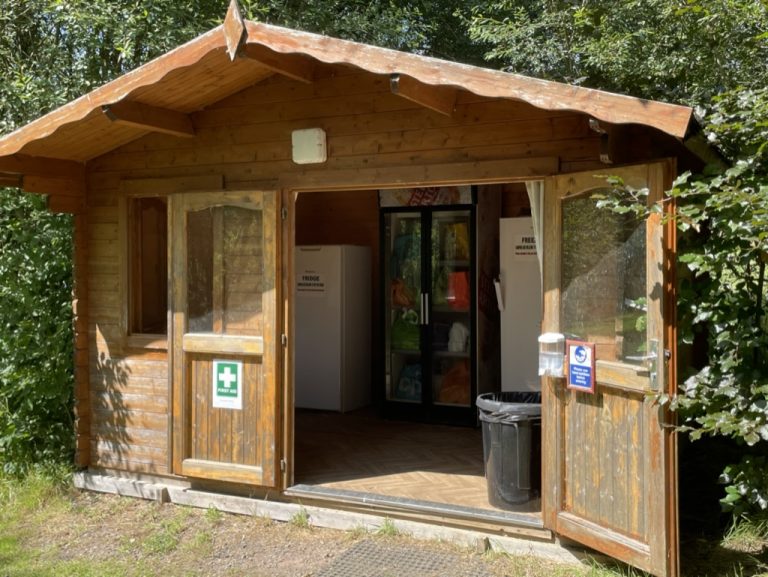 We have Fridge and Freezer stations so all campers can place all their own frozen food etc in freezers. All food must be marked up with your name and pitch number.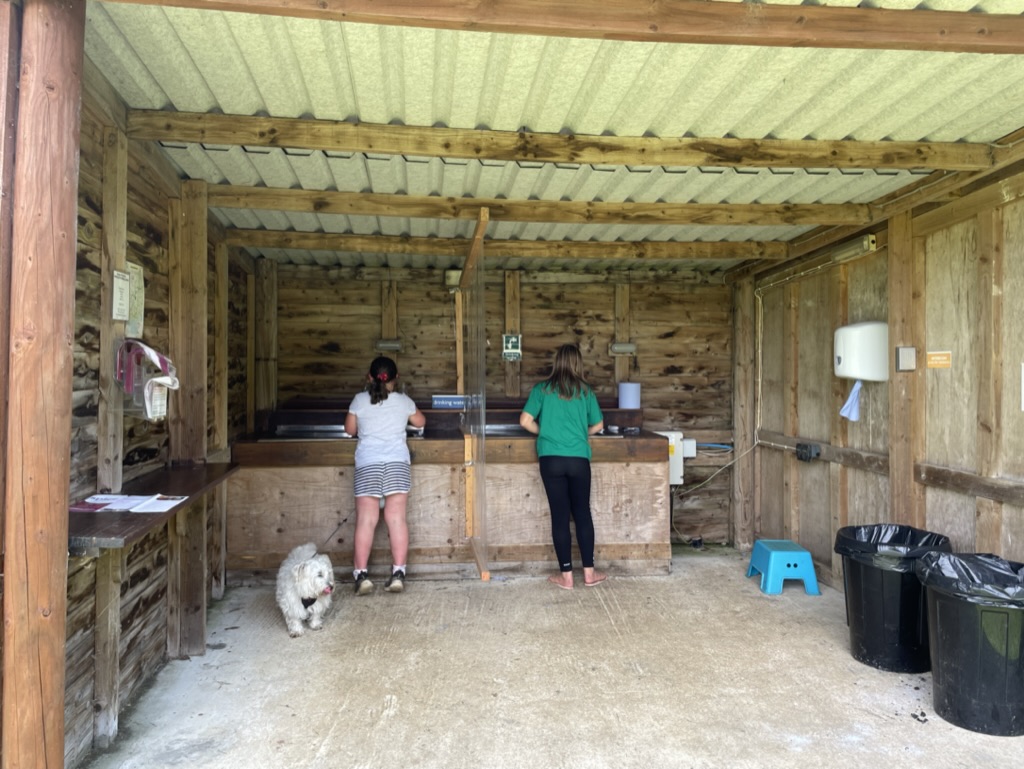 Riversidelakes was set up to run with as little impact on the environment as possible. You can help us achieve this by using the recycling bins that are all clearly labelled. It is very helpful to have the rubbish pre-sorted as we take it all to the recycling ourselves.
We have 5 New Bell Tents for 2022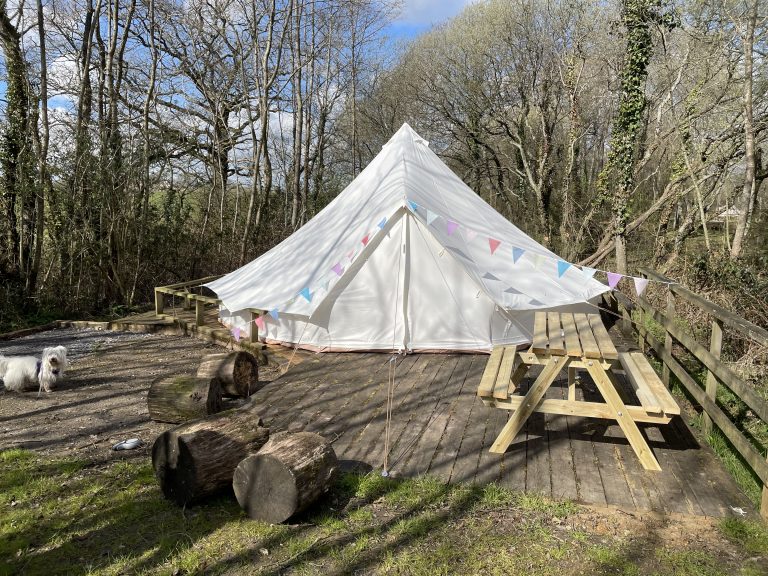 Glamping Living Along side Nature
Glamping is the perfect combination of comfort and countryside. Unlike traditional camping, glamping provides you with every single comfort of home, there is no roughing-it to be had in our canvas retreats! Luxury glamping is exactly that, getting close to nature without getting covered in it! Our tents, our locations and our included features all reflect an experience you won't find at home or on a traditional camping trip!
5 m bell tents –  based on 2 adults sharing £100 per night
(sleeps maximum of 5 based on 2 adults and 3 children)
6 m bell tents – based on 2 adults sharing £120 per night
(sleeps maximum of 6)
bell tents are minimum of 3 night stay mid week, and 2 nights at the weekend, except bank holidays.
Extra adults per night £30
Extra child per night (over 5) £15
bell tents include :
🏕 1 double bed (can be made into 2 singles but will be next
to each other)
🏕 single extra beds with mattress'
bed linen
🏕 duvet and pillows
🏕 cooking fire bowls with bbq griddle
🏕kettle
🏕car park per pitch (please specify if extra cars)
🏕 lanterns and fairy lights
🏕 blankets and covers
🏕 camping seating area outside
🏕 picnic table
🏕 wifi (near main office)
🏕electricity and drinking water tap close by
🏕 fridges and freezers close by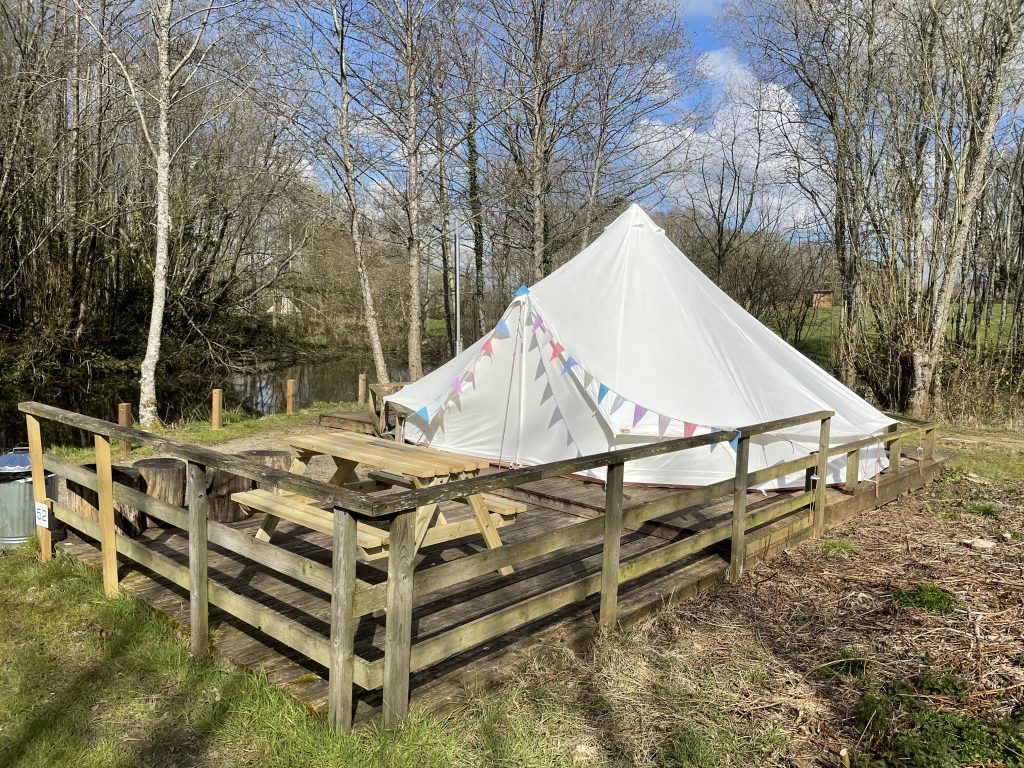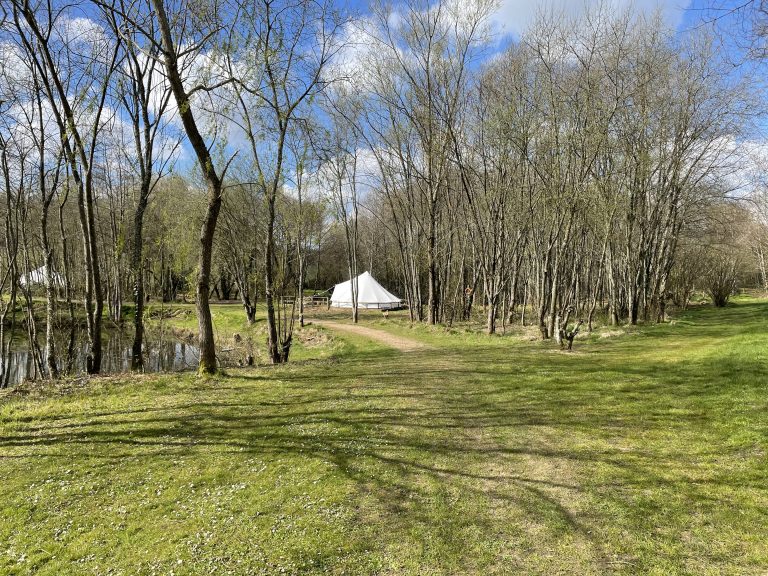 Enjoy the freedom of camping without the feeling of having to rough it. Riverside Lakes Glamping lets you Live Along Nature without missing out on home comforts and is perfect anyone  who is not to sure what to expect from a camping experience.
Picture yourself relaxing our luxury accommodation, waking up in the beauty of nature surrounded by beautiful  Dorset countryside, or enjoying a glass of wine while the kids play nearby.
We mow parts of the land to create the camping areas and paths to walk around but much is left as natural meadow, woods and shrubs as we feel it is better to share the space equally with nature rather than commercialise it and fill it up with campers.enjoy the great outdoors experience where you can have a chat around a real fire.